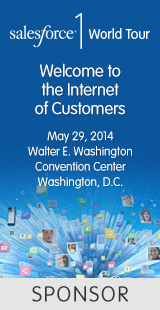 Buan is thrilled to sponsor the Salesforce1 World Tour in DC. Come join us May 29 at the Walter E. Washington Convention Center!
Enjoy the keynotes, experience live demos and learn from the Salesforce experts.
Firstly, for those of you new to Salesforce1-an overview: basically, Salesforce1 brings new meaning to the word "interconnected". Its a new customer platform that serves as a mobile, portable office. Users can track sales calls, respond to leads, work opportunities, or access dashboards no matter where they are. Cross-team collaboration is made easier than ever. In short? Its Salesforce's latest platform that helps businesses better connect with customers.
To help showcase Salesforce1, Salesforce is conducting an exciting global road show designed to inform and educate companies and individuals on this next-generation platform. Called the Salesforce1 World Tour, the events feature live keynotes from salesforce.com executives, specialized breakout sessions for sales, service, marketing, IT, developers and more, live demos of cutting-edge technologies and real customer stories from around the world.
The Salesforce1 World Tour has spanned the globe- from Amsterdam, Melbourne, San Jose, Sao Paulo, Toyko and more-and is now headed to Washington DC in May.
Buan is thrilled to be a sponsor of the World Tour DC on May 29. Come join us! Let us know if you're coming-we'd love to say hello.