Salesforce1: What is it and why you must have this for your business.
Salesforce1 is a new platform from salesforce.com, that was designed for the "internet of customers" to help companies focus on and build better relationships with their customers.  With its new rich and robust API capabilities for Developers, mobile apps and access to more AppExchange partners and ISV's, Salesforce1 consolidates all of these internet based technologies into one service so that more time is spent on the customer.
In a valid effort to make current customers feel valued, Salesforce1 focuses on its customers, not consumers with four key areas on the new platform for Developers, ISVs, Admins and the end user.  Salesforce hopes the new platform will help its customer companies build new services that allow them to better market and sell their products  and regain their focus on building better relationships.
More API functionality for developers to create better apps
Salesforce 1 offers 10 times more APIs (Application programming interface) and services so that you can now create mobile apps to give customers what they want when they want it.  The new APIs seamlessly integrate and connect any product, device and platform so customers can connect anything with everything from anywhere.
An improved AppExchange
The Salesforce1 customer platform is unveiling with 17 partners to include LinkedIn, Dropbox, Docusign and HP to name a few.  These businesses are using the platform to build and sell next-generation mobile ready apps to leverage in the AppExchange marketplace.  The new AppExchange is built using Salesforce1′s Customer Platform and handles the delivery and marketing part of the app production process and extend the value of Salesforce for your customers everywhere.
Easy Admin Use
Salesforce1 enables administrators to manage their own instance from any device anywhere with two mobile apps that bring your sales, service and marketing data to your fingertips.  The mobile apps provide real time data and updates allowing admins remote access to manage any customization such as workflow, permissions and sharing settings to mobile.  Any custom apps created or downloaded from the AppExchange are now accessible from anywhere so you can connect with employees on sales opportunities, service cases, campaigns and projects on the fly.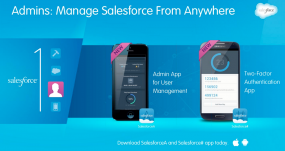 Connect to your customers in a whole new way
Create amazing apps that delight customers like never before. With Communities, Heroku1 and the ExactTarget Fuel Platform, now you can connect with customers to create deeper relationships with more engaging experiences.  Salesforce1 is free to use for anyone using Salesforce and existing users will automatically be upgraded.
You can read more information about this feature at Salesforce1 or contact your Buan Consultant for any questions you may have.