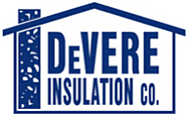 DeVere Insulation is Maryland's largest independent insulation contractor, employing over 65 installers and offering a variety of insulation services to serve residential, retrofit, commercial and energy consultation services.
Problem: DeVere Insulation is a large corporation with five branches, each potentially selling to the same customer. The legacy @Quote system did not have job accounting capabilities, effectively hiding the profitability of the jobs.
Challenge: The management team needed sales tracking, visibility into job profitability, validation of estimates, measurements on the profitability of contractors and integration with their back office MAS90 system.
Solution: Security settings manage appropriate visibility within each branch. A streamlined process from estimate request to automated proposal creation through work phase documentation to invoicing was deployed to each of the branches. Each opportunity includes the schedule and plans for all project phases. Products and Pricebooks are used in conjunction with a custom object, tracking inventory details and material costs, labor costs used to calculate profit.
Custom VisualForce and Apex was used to create a scheduling application which allows the DeVere team to easily visualize the upcoming weeks and the most efficient use of their resources.
Benefits/Results: As a result of Buan Consulting's customized Salesforce solution, DeVere saw a 34% increase in revenue, a doubled closure rate, decreased backroom headcount, and an increase in sales employees. All requirements were met and expectations exceeded. The highly customized solution enabled DeVere to automate their current processes and prepare for future growth.
—-
—-
PROJECT VITALS:

Technology Replaced by Salesforce: @Quote, 3×5 cards, white board and paper forms
Salesforce Products Deployed: Sales Cloud, Products and Price Books, Mobile, Web2Lead
Product Features: Bid estimate automation through to conversion, Products and Pricebooks used in conjunction with custom object, Custom VisualForce and Apex
Integrations: Manual integration with MAS90 accounting system
Solution Launch Date: April 2009
—-
"In just one location, Buan Consulting has significantly impacted our business by allowing us to gain more visibility into our sales activities, reduce back office staff by one, and increase sales staff by two, resulting in increased sales of 34%. By implementing their solution at our other yards, we will have better visibility into each yard, will coordinate bidding activities and be able to centralize all billing activity."
— Chris Rzepkowski, DeVERE Branch Manager